So, we just got back from K's ultrasound appointment and well, we got interesting news. She does have 2 kidneys, one is a pelvic kidney that is sitting next to her right ovary. Her other ovary is hidden behind a 3 cm fibroid. The MRI confirmed a unicornuate uterus. The RE basically said that retrieving eggs from her ovaries would be very risky because of the placement of her kidney. The risk of perforating her kidney or a ureter would be much higher for her. She described the symptoms of a perforated ureter as "urine leaking out of your vagina." The RE also said "don't worry it can be fixed, we just insert a stint and in a few months everything is back to normal!" At this point, my internal expression was similar to this: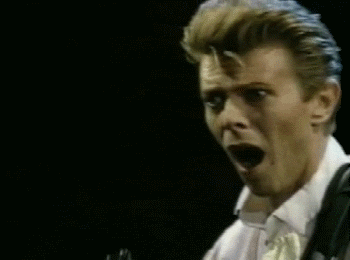 The RE went on to say that one option for retrieval would be to go in laparoscopically but since this is not covered by insurance and we are talking general anesthesia, that's not happening. The RE felt that going in vaginally and abdominally both would not work because of her anatomy and the fibroid. She felt that even with removing the fibroid the risk of perforating her ureter or her kidney would be too high so neither of those are good options. She said that if K was dead set on carrying a pregnancy then she would recommend donor eggs because of all of the risks involved retrieving hers. Basically, her eggs are not retrievable.
So, we have closed the book on using K's eggs or uterus on our journey to make a baby. She has always been very firmly against the idea of being pregnant which given all of this feels quite serendipitous, as none of her parts are very serviceable for making or carrying babies.
That leaves my antiquated parts. We talked a little about a timeline and what will happen next. On CD 1 I will repeat an ultrasound and more labs then begin birth control and 21 days of testosterone gel. The RE said this would hopefully increase my follicle count and the number of mature high quality eggs retrieved. I will also do human growth hormone once a follicle of 10mm is seen on ultrasound. And she recommended a micro FLARE protocol to hopefully get a better result at retrieval.
Fingers crossed this one works. I can't even think about how I will feel if it doesn't so I'm just going to press forward with the hope that our results will be much better this time around. I have about a month to figure out where we will get the rest of the money for the cycle. I'm pretty sure we can do it without putting anything on the credit cards, but I suppose that's always an option.
Onwards!